Woman of Hope 2016 |  Lisa M. Butler
 •••••••••••••••••••••••••••••••••••••••••••••••••••••••••••••••••••••••••••••••••••••••••••••••••••••••••••••••••••••••••••••••••••••••••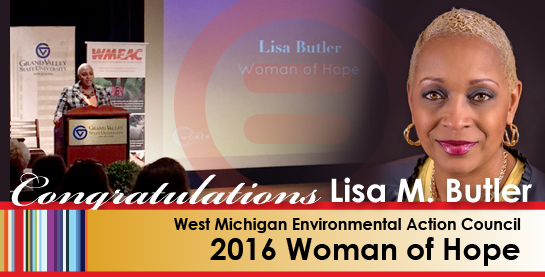 Congratulation to Lisa Butler
on recieving the West Michigan Environmental Action Council's 
2016 Woman of Hope Award
This award seeks to honor an up and coming advocate, who brings hope, fresh voices, and diverse perspectives to the ongoing efforts to improve the environment.
To say that she is talented is quite the understatement.  In fact, Ms. Lisa Butler is a multifaceted artist who can and continues to, do it all, with a level of skill and grace all her own.
Lisa brings it—every single time.
At her core she is a tireless advocate who brings hope and fresh perspective to problems that require a collective effort to solve. Near and dear to her heart is protecting the environment and inspiring young people (from school age children to youth and young adults) to grow their own flowers, vegetables, and herbs, in the most environmentally sound way.
As Director of the Urban League's Center for Health and Wellness, Lisa directs and oversees a number of initiatives dedicated to furthering a culture of health throughout the urban core. In this work, she always finds time to weave in honoring and appreciating our environment and our commitment to care for the earth.  
We believe Lisa brings hope to various community groups interested in making an environmental difference and we congratulate Lisa and all the awardees for their outstanding work here in Grand Rapids.