Thank you to all that attened the Martin Luther King Jr. Corporate Breakfast 2020!
 •••••••••••••••••••••••••••••••••••••••••••••••••••••••••••••••••••••••••••••••••••••••••••••••••••••••••••••••••••••••••••••••••••••••••

20th Annual MLK Corporate Breakfast 
Thank you to all that attended our SOLD OUT EVENT on January 20 at DeVos Place, Downtown Grand Rapids. This inspiring community celebration honors not only the legacy of Dr. King, but also to celebrates the spirit of diversity in the Grand Rapids community. Every year the Breakfast is an opportunity to celebrate Dr. King's legacy of service and be inspired to live out his dream today in our homes, the community and throughout the world.  It is also a time to celebrate and honor trailblazing leaders in business and throughout the community who personify the Urban League's mission of a more just, peaceful, equitable and thriving Grand Rapids.

We thank you for your presence and your continued support of this important event which makes the work of the Urban League possible. We had over 1,000 guests present. This event has become the largest morning gathering honoring Dr. King (on his birthday) in West Michigan!  Like Dr. King, the Urban League believes that America's true strength lies in its diversity of talents and we welcome the opportunity to serve as the bridge joining both hearts and minds to accomplish the ultimate dream.  As always, your continued support is deeply appreciated. 
2020 HONOREES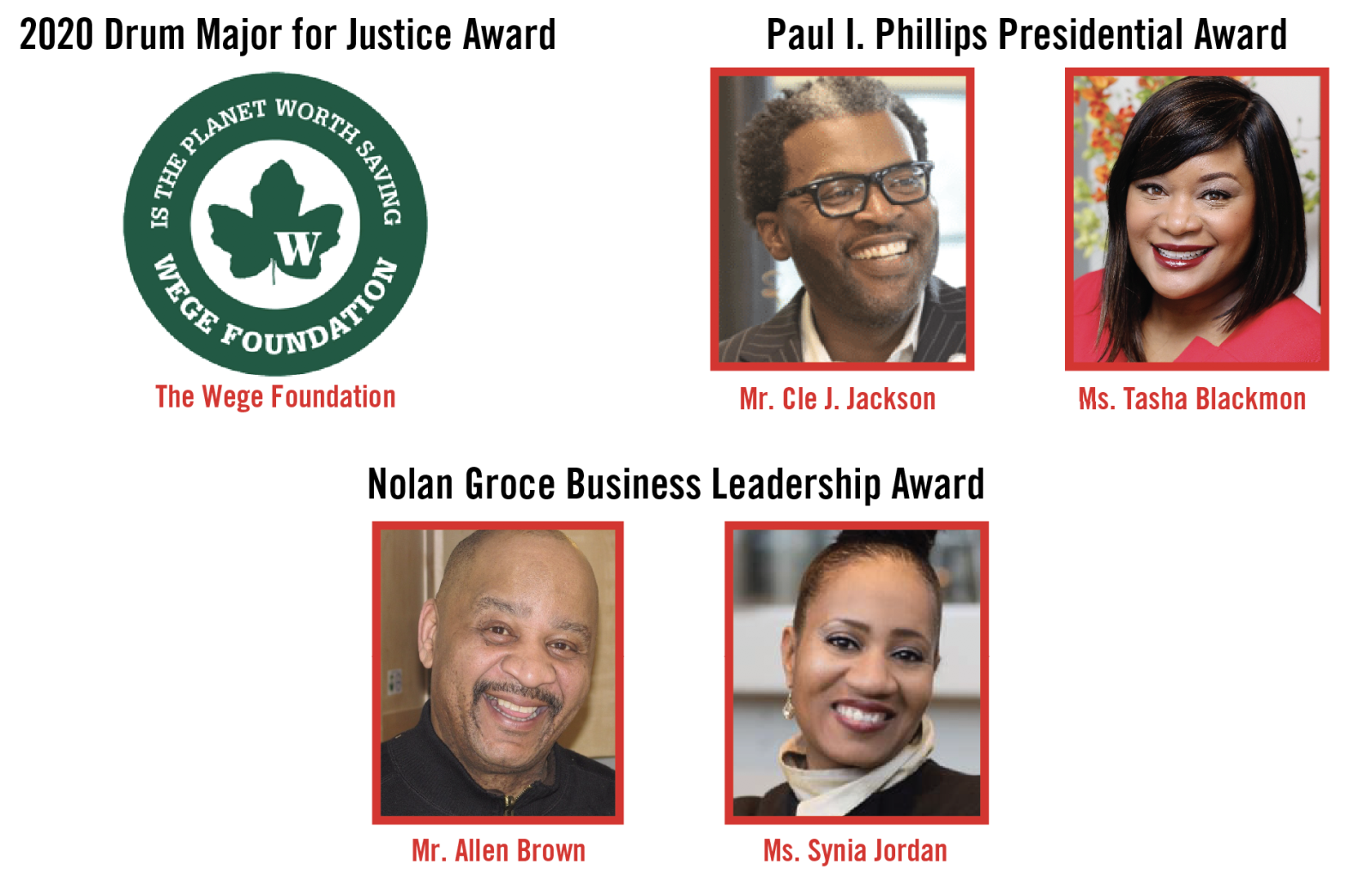 Thank you for attending the Breakfast to celebrate the life and legacy of the Rev. Dr. Martin Luther King, Jr.  On the 20th celebration of this great man and movement that not only changed civil rights laws for all Americans, but set in motion the drive for human rights reform worldwide. We are proud to join in celebration of the legacy of service of Dr. King, as we pursue achieving the dream in our homes, our community, and our world. 
The Urban League of West Michigan is proud to honor The Wege Foundation as the 2020 Drum Major for Justice Awardee. Mr. Allen Brown, President of Behind The Scene Catering LLC and Ms. Synia Jordan, Owner of Samaria J's Salon Suite are the outstanding recipients of the 2020 Nolan Groce Business Leadership Awards. And finally, The Presidential Leadership Award honors individuals for distinguished achievement who have made a significant and lasting impact on improving the lives of others in our community through their professional accomplishments. The award is named in honor of Paul I. Phillips, longtime Executive Director of the Urban League and social and economic justice champion who served this community for nearly 30 years until his death in 1976.  We are so proud to honor in his name Ms. Tasha Blackmon, Chief Executive Officer of Cherry Health, and Mr. Cle Jackson, President of the Greater Grand Rapids Branch of the NAACP.  
For over 77 years, the Grand Rapids Urban League—now the Urban League of West Michigan—has partnered with businesses, individuals, and organizations to make West Michigan a better place to live and work. Through your hard work and giving spirit, we have addressed some of the key issues in the greater Grand Rapids community such as homelessness prevention, housing foreclosures, unemployment and under employment, education and health. Although we have made great strides, we still have a long way to go, and together we can continue to make a difference. Let us reflect upon the past while seeking hope, determination and an opportunity to act upon the promise of the future. 
2020 FIRESIDE CHAT

Employment/Workforce Development: Mr. David Lewis, President, AT&T Michigan 
Housing/Community Development:Mr. Dennis Sturtevant, Chief Executive Officer, Dwelling Place, Inc.  
Education:Ms. Arelis Diaz, Director, Office of the President, W.K. Kellogg Foundation 
Health:Dr. Lynn Todman, Executive Director, Population Health, Spectrum Health Lakeland 
Racial Equity, Diversity, and Inclusion: Mr. Ovell Barbee, Senior Vice President and Diversity Officer, Spectrum Health
2020 SPONSORS - THANK YOU!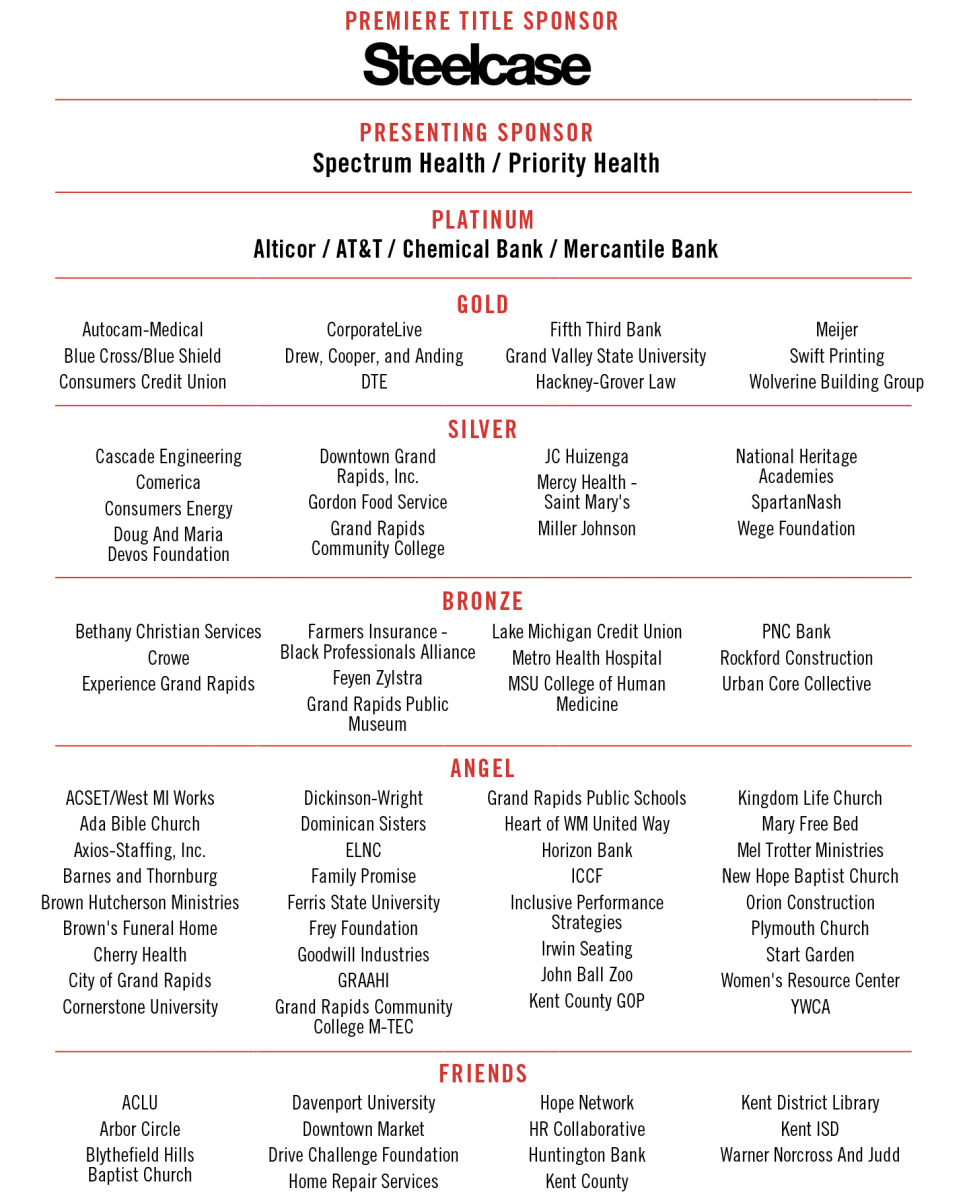 For questions, contact Brenda Moore at (616) 252-2200 or email bmoore@grurbanleague.org.