Martin Luther King Breakfast 2018
 •••••••••••••••••••••••••••••••••••••••••••••••••••••••••••••••••••••••••••••••••••••••••••••••••••••••••••••••••••••••••••••••••••••••••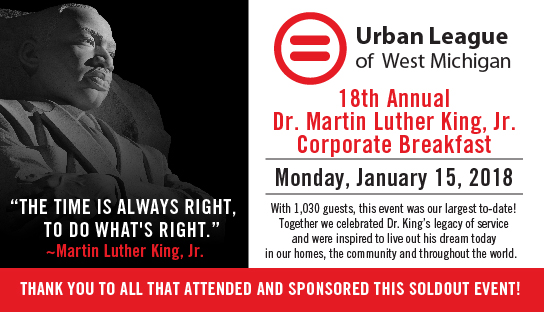 "The Time Is Always Right To Do What's Right."  ~Martin Luther King, Jr.
Thank You to All Attendees of Our 18th Annual Dr. Martin Luther King, Jr. Corporate Breakfast!
Our 18th Annual Dr. Martin Luther King, Jr. Corporate Breakfast was a great kick off the New Year! This sold-out event held at DeVos Place in Downtown Grand Rapids had 1,030 guests, and it was something to see!
On Monday, January 15 at DeVos Place, Downtown Grand Rapids for this inspiring community celebration honored not only the legacy of Dr. King, but also celebrated the spirit of diversity in the Grand Rapids community. Together we celebrated Dr. King's legacy of service and were inspired to live out his dream today in our homes, the community and throughout the world.  We also celebrated and honored trailblazing leaders in business and throughout the community who personify the Urban League's mission of a more just, peaceful, equitable and thriving Grand Rapids.
We thank all that attended for your presence and for your continued support of this important event which makes the work of the Urban League possible. Like Dr. King, the Urban League believes that America's true strength lies in its diversity of talents and we welcome the opportunity to serve as the bridge joining both hearts and minds to accomplish the ultimate dream.  
As always, your continued support is deeply appreciated. 
PLEASE MARK YOUR CALENDARS:
Dr. Lisa Lowery, Chairperson invites you to the
75th Anniversary Gala, November 3, 2018. 
Details to come.
MLK Jr. Corporate Breakfast 2018 from Aria Show Technology on Vimeo.
Stand Up For Something by Lisa Knight - MLK Jr. Corporate Breakfast 2018 from Aria Show Technology on Vimeo.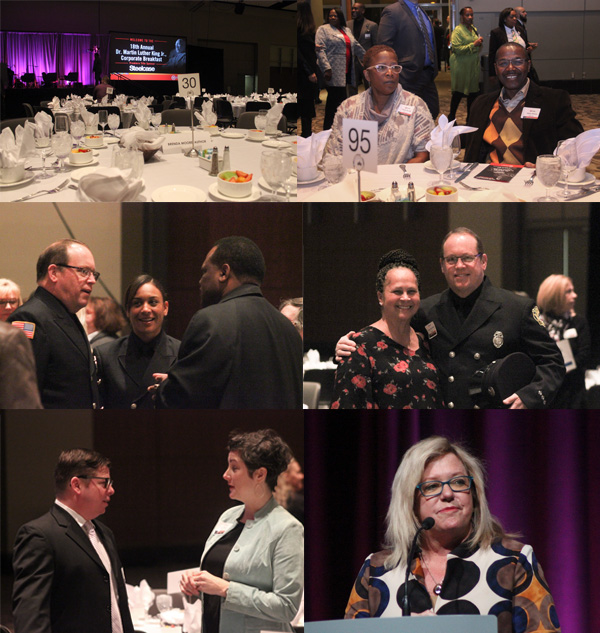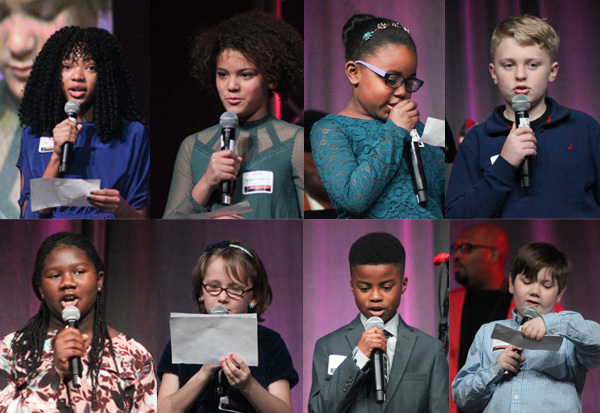 "It really boils down to this: that all life is interrelated. We are all caught in an inescapable network of mutuality, tied into a single garment of destiny. Whatever affects one directly, affects all indirectly. We are made to live together because of the interrelated structure of reality."  – Martin Luther King, Jr.
Excerpts from Dr. King's Speech read by:
Samara Anderson • Joshua Beckford • Ari James • Mailynn Lamar
Ethan Mathias • Zane Morse • Makyli Simpson • Willow Tepper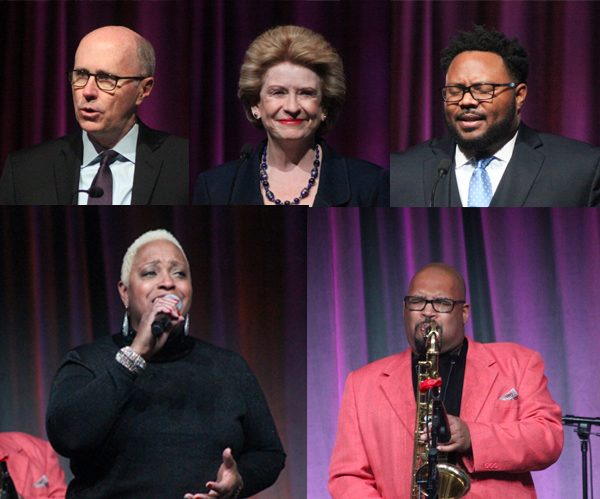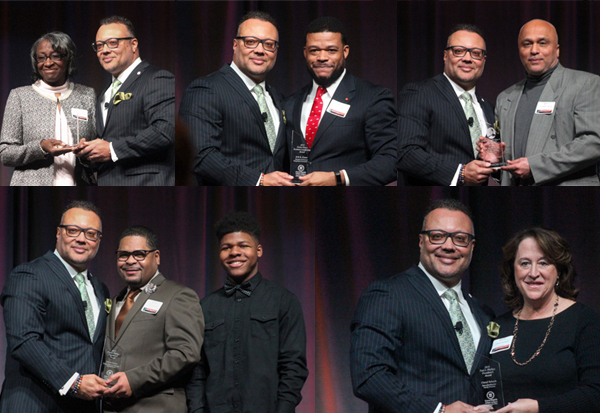 CONGRATULATIONS TO ALL OF OUR AWARD WINNERS:
2018 Nolan Groce Business Leadership Award:
Helen Harp (and Larry Harp, posthumously) Owner, WDPW, 91.9 FM
and Eric K. Foster, Founder and Principal, Progressive Strategies+
2018 Paul I. Phillips Presidential Legacy Award:
Darius Quinn, Human Resources Manager, County of Kent and
Cheryl Schuch, Executive Director, Family Promise
2018 Drum Major for Justice Award:
Dr. David Pilgrim and the Jim Crow Museum, Ferris State University

THANK YOU TO THESE FIVE THOUGHTFUL LEADERS FOR AN INSPIRING FIRESIDE CHAT:
Employment/Economy:
Mr. Jacob Maas, Chief Executive Officer, West MIWorks!

Housing/Community Development:
Mr. Patrick Lonergan, Senior Vice President, Fifth Third Bank

Education:
Dr. Justin Jennings, Superintendent, Muskegon Public Schools

Health:
Ms. Tasha Blackmon, Chief Executive Officer-Elect, Cherry Health
 
Racial Equity:
Dr. David Pilgrim, Ferris State University/Jim Crow Museum
Thank you to our generous sponsors!
PREMIER TITLE SPONSOR:
Steelcase
PRESENTING SPONSOR:
Spectrum Health/Priority Health
PLATINUM SPONSOR:
Fifth Third Bank
GOLD SPONSORS:
Autocam-Medical
Bethany Christian Services
Chemical Bank
Ferris State University
Meijer
Mercantile Bank
Mercy Health-Saint Mary's
Miller Johnson 
SILVER SPONSORS:
Ada Bible Church
Amway
Believe 2 Become
Blue Cross
Blue Shield of Michigan
Cascade Engineering
Consumers Credit Union
Consumers Energy
Grand Rapids Community Foundation
Grand Valley State University
Kent County Convention Arena Authority – CIG
OST
SpartanNash
Swift Printing
Warner, Norcross and Judd 
BRONZE SPONSORS:
Barnes and Thornburg
Crowe Horwath
DGRI
Dickinson-Wright
Goodwill Industries
Grand Rapids Chamber of Commerce
Grand Rapids Public Schools
Hope Network
Horizon Bank
Kent County GOP
Mary Free Bed
MSU College of Human Medicine
Plymouth Church
PNC Bank Power
91.9/Larlen Communications
Varnum 
ANGEL SPONSORS:
ASCET/West MIWorks!
Cherry Health
City of Grand Rapids
Cornerstone University
Committee to ElectFred Wooden
County of Kent
Demsey Ventures
Dominican Sisters-Grand Rapids
DTE Energy
ELNC
ExperienceGR
Family Promise
Feyen Zylstra
Frey Foundation
GRAAHI
Grand Rapids Community College
Heart of West Michigan United Way
ICCF
Inclusive Performance Strategies
Irwin Seating
Kids Food Basket
Kingdom Life Church
Mel Trotter Ministries
Network 180
New Hope Baptist Church
Orion Construction
Pepsi Beverages Company Pioneer Construction
Rhoades McKee
Rockford Construction
Smith, Haughey, Rice & Roegge
Start Garden
The Cord Group
Truscott-Rossman
Urban Core Collective
Wege Foundation
Women's Resource Center
YMCA
YWCA