Our Very Own Lisa M. Knight Featured in Women's Lifestyle Magazine
 •••••••••••••••••••••••••••••••••••••••••••••••••••••••••••••••••••••••••••••••••••••••••••••••••••••••••••••••••••••••••••••••••••••••••
"Relentless by Nature" article by Richelle Kimble • photography by Two Eagles Marcus
Click here to read the full interview in Women's Lifestyle Magazine!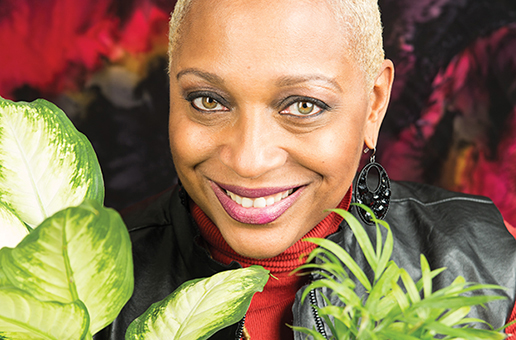 "I played with snakes and frogs and caught butterflies and built forts under the canopy of the woods," she said, describing her rural childhood roots. Her appreciation of environmental essence continues to impact her today both socially and professionally; only now, she's playing with community gardens, catching sustainability glitches and building her mission to provide nutritional education and equality for all.
Lisa Butler's tenacity is complemented by her joyous aura. As a woman with relentless dreams for our community, she carries poise and passion to each corner in which her efforts are placed. Butler's role as director of the Center for Health and Wellness at Urban League allows her to impact lives of all community members. At Urban League, she's the minuscule version of what she sees as perfection for the community at large: she assess problems efficiently, conquers solutions effectively, and moves forward in unity.
Through Urban League, Butler focuses on holistically aiding people and providing resources to meet their needs. "Most people come in the door looking for one thing, knowing they have many needs but figure they can just ask for one," she said. "Well, my job is to find out what those others things are and try to surround them with enough tangible resources that we can begin to help them heal and be successful, one step and one person at a time." Aiding individuals, families and youth are an innate component of her role as much as it is of her nature.
Amidst youth programs, individual aid and family assistance, an exciting initiative she's in the process of executing is a full-circle youth gardening project. From creating hydroponic units for growth to developing trade skills and a business plan for a future farmers market, the program is a foundational vision for implementing healthy and sustainable food practices into future generations.
Butler is a devout advocate for community sustainability and development, and she'll work beyond implementation. Her dreams include you, me and our neighbors living under an umbrella of equality, opportunity and sustainability. Read on to learn more about her passion, her initiatives at Urban League, and why she was deservedly recognized as the Woman of Hope by West Michigan Environmental Action Council's Women and the Environmental Symposium in March.
Click here to read the full interview in Women's Lifestyle Magazine!